Publications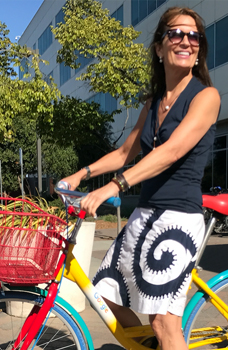 Growing up, my son, Dylan, would ask me at least 100 questions a day. Answering them was the most fun I've ever had because my answers inevitably led to more of his amazing questions! Reading together included more inquiries about the world and more conversations about how things work. But there was one time of the day when we both preferred to just read the words of a book and marvel at the pictures. These tales signaled bedtime by slowing down the pace of the text with rhyming stanzas and big, persuasive illustrations that pulled us into the story. Inevitably, by the last page of one of these bedtime pleasers, Dylan's eyes would close as he turned to fall fast asleep. I recognized the magic in those lyrical stanzas and wanted to create them myself.
In addition to being an environmental geologist,
Huffington Post blogger
and teacher, I'm delighted to now also be a published children's author.
When the Wind the Blows
is my first book in a three-part rhyming, renewable energy series. In
When the Wind Blows
, a lively day spent along the coast reveals offshore windmills spinning ocean breezes into clean electricity for nearby homes, harbors, hillsides and highways. Cultural, environmental & scientific leaders have shared their endorsements for WIND, which can be found on
WhenTheWindBlows.org
. My writing for children is inspired by the ability of wind, solar and water to transform the way that cities and towns are powered in Texas and around the world.
I'm also a Climate Reality Leader who enjoys sharing the unfiltered science of climate change in meaningful and memorable ways. I'm a member of the Society of Environmental Journalists, the National Association of Science Writers and the Society of Children's Book Writers and Illustrators.