Focus on Early Childhood Education
My early career as an
environmental consultant and writer
began at a time when environmental legislation was prompting greater concern for environmental protection. Investigating the impact of environmental contamination on human health, I learned how to explore an issue in detail and bring focus and understanding to its implications.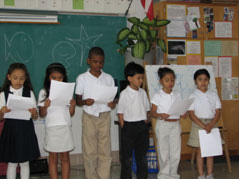 1st graders at Dealey Montessori Academy in
Dallas share their views on protecting marine
environments in a collaborative letter written
to President Bush (2006).

Most recently I've applied this skill to helping children understand the seemingly larger-than-life issues involving environmental protection, global warming, alternative energy, and biodiversity.
From designing hands-on environmental activities for children and reporting on their discoveries in the field, to
answering kids' questions
in the syndicated column, Earth Talk Young Readers and
publishing EarthBeat
, an environmental newsletter for children, I've observed that children intuitively appreciate that Earth's many systems must work together to work at all.
Protecting the environment, therefore, comes naturally to children. As a student teacher at Dallas' George B. Dealey Montessori Academy, I was able to introduce students to the environment by integrating environmental principles across the 1-3 grade classroom curriculum.
Energy for Life Contest

I helped develop the Energy for Life Art Contest co-sponsored by E/The Environmental Magazine and Cape Wind, where we invited Massachusetts students to submit artwork illustrating a future powered by clean energy. Students were also asked to write a short essay to accompany their work.
Here is an excerpt from the press release:
Stacy Clark, director of Youth Editorial for E Magazine said, "E/The Environmental Magazine was delighted to partner with Cape Wind to raise children's awareness concerning wind power." Clark went on to say, "Our Young Environmentalists team is committed to educating children about the environment and how we can work together to protect and preserve natural resources worldwide."

"It's great to have children being creative and learning about wind energy and the environment," said Jim Gordon, president of Cape Wind. "Wind energy projects like Cape Wind are very much about the kind of planet we leave for future generations."

Contest winners included one first place and nine "honorable mentions."

Contest winner, Tracey Babin, who painted a picture of a baby playing in the sand with windmills on the distant ocean horizon stated, "Through my artwork I have tried to display the appeal of the Cape—a healthy prosperous environment—with the help of wind powered energy. This painting is a good depiction of the positive effects of wind powered energy and shows how little we would be giving up for a cleaner, healthier Cape Cod."